These Are the 3 Types of Reactions to Hillary Clinton's Historic Win
It's happening. After 227 years of male presidents and presidential candidates, the United States will see a woman's name on the ballot for president and have the choice of voting to put her in the Oval Office, or not.
made some tiny emoji art to mark this moment pic.twitter.com/Flk5ZT3Xp4

— laura olin (@lauraolin) June 8, 2016
That's because Hillary Clinton claimed the Democratic presidential nomination this Tuesday night alongside big wins in the California, New Mexico, and New Jersey primaries, and a day after the Associated Press declared her the presumptive nominee. (Emphasis on presumptive.)
It's a historic moment. Regardless of your party affiliation or personal views, it's hard to deny that having the first female nominee for a major American political party is a huge deal.
Although there were tears of joy and rapturous outpourings on social media after the announcement, not everybody was sold. Reactions to this achievement being made by Hillary Clinton has sparked strong reactions--in three basic camps:
1. Clinton supporters are ecstatically saying #ImWithHer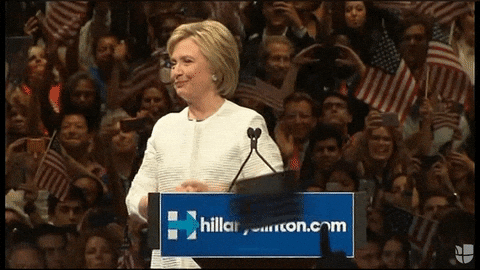 Though she ended up beating him soundly, Bernie Sanders' progressive, mobilizing campaign and passionate following made this primary season a real fight for Clinton. You could practically hear a nationwide sigh of relief from her supporters after the victory.
I can't wait until I pick up this copy tomorrow and place them in my vault for framing in the future! #ImWithHer pic.twitter.com/zHaJ3dpNoi

— Mr. Weeks (@MrDane1982) June 8, 2016
Clinton gave a moving victory speech at a rally in Brooklyn, New York.
The address set social media on fire. Pro-Clintonites were thrilled. They believe her long career as First Lady, US Senator, and Secretary of State makes her the most qualified candidate to lead the US.
I cannot contain my depth of gratitude, experiencing #HistoryMade w/ my son & ALL @HillaryClinton #ImWithHer #4EVER pic.twitter.com/7uwJCLYuOj

— Jaime King (@Jaime_King) June 8, 2016
Now that Clinton is the presumptive nominee, many Democrats are looking forward to the general election. They hope for party unity in the fight against presumptive Republican nominee Donald Trump.
Sitting w my daughter last night watching @HillaryClinton speak- profoundly proud moment. Let's crush @realDonaldTrump shall we?#ImWithHer

— Adam Scott (@mradamscott) June 8, 2016
Clinton has support from celebrities, public figures, and political heavyweights, as well as from key demographic groups in the United States, including blacks and Hispanics.
@GabbyGiffords you speak volumes in all you continue to do...

— Kathleen Bade (@KathleenFOX5) June 8, 2016
For many, it's a huge moment for gender equality--a special moment, especially, for many women in America. One glass ceiling was shattered--but there's still work to do.
A lot of little girls are in bed right now dreaming for the first time, without limits. You broke the mold @HillaryClinton ??

— KATY PERRY (@katyperry) June 8, 2016
My 8 year old said "See Mom, it's true, anything is possible." #ImWithHer @HillaryClinton pic.twitter.com/suDv0mYTzg

— Constance Zimmer (@ConstanceZimmer) June 8, 2016
To many, this feels long overdue. Many feminists are rejoicing.
I loved going to the convenience store this morning and seeing newspapers with front pages like this!?#ImWithHer pic.twitter.com/ZpvejsvneX

— Val Kappa (@ValKappa) June 8, 2016
Some of them secretly and quietly.
We didn't know where Hillary's votes were coming from bc they didn't feel it was safe to tell us in the first place. pic.twitter.com/pc4pKY1PiJ

— Joanna Castle Miller (@jocastlemiller) June 8, 2016
2. Some are relucantly going #GirlIGuessImWithHer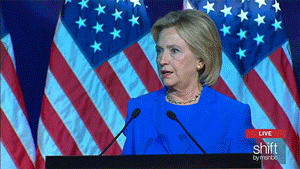 Many Democrats begrudgingly accept Clinton as the nominee.
After I vote for Hillary in November ???#GirlIGuessImWithHer pic.twitter.com/BEaPqBtsSp

— ?iClapBack? (@photosbywesley) June 8, 2016
Some see her as unethical, self-serving, and too dependent on big money.
Although she may not be everyone's first choice, many voters feel that a Clinton presidency is much better than the alternative--Donald J. Trump as Commander-in-Chief. So they're holding their noses and planning to vote for Hillary in November.
#GirlIGuessImWithHer #WhatElseIsThereToDo pic.twitter.com/MHUVkjrZpe

— @MADBLACKTHOT (@MADBLACKTHOT) June 8, 2016
The #GirlIGuessImWithHer hashtag quickly took off Tuesday night, spreading through Twitter like a giant shoulder shrug. The general consensus is that while Clinton may not bring the revolution progressives have been hoping for--and while many have serious issues with things she has said and done--many left-leaning, pro-Sanders Democrats are willing to fall in line and unite. The objective? Sparing America and the world from Donald Trump and his great wall.
Me otw to the polls in November #GirlIGuessImWithHer pic.twitter.com/2T3jgYydZI

— Tora Shae (@BlackMajiik) June 8, 2016
when the only way to keep trump out of office is to vote for Hilary #GirlIGuessImWithHer pic.twitter.com/yGMdCMu8BF

— jessika (@jessikalyssa) June 8, 2016
#GirlIGuessImWithHer because in an election where you ask me to choose Jim Crow or Slavery,I'm losing out regardless pic.twitter.com/Iw2iIPvSOq

— Xaytone (@XLNB) June 9, 2016
mood. #GirlIGuessImWithHer pic.twitter.com/76wuOFFq3a

— Alisha Stewart (@AlishaNStewart) June 8, 2016
3. And many are loudly, proudly saying #HillNo
#GirlIGuessImWithHer seriously? wth? #GirlIGuessImNotWithHer is more like it. pic.twitter.com/xriwRtcwkN

— Barbara Mayes (@barbieQ2U) June 9, 2016
There are Democrats who will never accept Hillary Clinton as the nominee. Some progressives, like climate change activist Naomi Klein, have harsh words for Clinton.
Bull. Not under the plutocracy u represent. As a feminist, I should feel a thrill right now. I grieve that I don't. https://t.co/uz0y08mbbi

— Naomi Klein (@NaomiAKlein) June 8, 2016
Some Sanders supporters--including many independents, who experts believe Clinton will need to win over to win--believe that the election is rigged. They think Clinton has a Democratic establishment backing her that bought the nomination for her, and that she is buying her way into the White House. This group is #NeverHillary, at least for now.
Dear President Obama: Everyone knows she stole California. What are you going to do about it? #NeverHillary #ImNotWithHer @HillaryClinton

— Michelle Lee Culp (@MichelleLeeCulp) June 9, 2016
Nothing "historic" about elites taking power-this is someone who remained silent about rights of women workers while on the board of Walmart

— Megan Erickson K. (@meganerickson) June 8, 2016
Some progressives are so anti-Clinton that they flirt with the idea of voting for Trump--or have even openly declared that they're on the #TrumpTrain. They think a Trump presidency could create the conditions needed for a political revolution. They prefer a shock to the system to politics as usual.
Can I volunteer for Trump, Stein, andddd Johnson? #NeverHillary

— Cassandra Fairbanks (@CassandraRules) June 8, 2016
Democrats who are confident that sanders voters will switch to clinton are overly optimistic. Clinton is no better than trump #NeverHillary

— sahar (@pakrat94up) June 7, 2016
There's no way I'm voting for Hillary Clinton so I guess Donald Trump it is ??

— Tina (@TFSportsaddict) June 8, 2016
Nearly 20% of Gen-Y Sanders voters will support Trump over Clinton, 57% are #NeverHillaryhttps://t.co/QlTIefFiiW pic.twitter.com/oj47m5ESEV

— Red Alert Politics (@RedAlert) June 6, 2016
Some of these #HillNo progressives will likely vote for a third-party candidate--probably about 25% of Sanders supporters--many of whom are pining for Sanders to run as an independent or team up with Dr. Jill Stein on the Green Party ticket.
#ThankYouBernie for proving that a true progressive agenda just needs to get a bit of media coverage to catch on like wildfire.

— Dr. Jill Stein (@DrJillStein) June 8, 2016
Don't forget, @BernieSanders supporters signed up for a political revolution. Hillary is the antithesis of the revolution. #PrimaryDay

— Dr. Jill Stein (@DrJillStein) June 7, 2016
.@BernieSanders, @DrJillStein has a message for you. Please, call her back ?

— Truthdig (@Truthdig) June 8, 2016
Others are going to sit it out.
Really don't like Trump.. But really hate Hillary. Guess I'm not voting ??

— Wes Duncan (@Captain_Wesley) June 9, 2016
Hillary vs. Trump LOL guess I'm not voting this year

— Case (@Justtt_inCASE) June 8, 2016
trump vs clinton... guess i'm not voting

— roy (@raptorially) June 8, 2016
Of course, legions of Republicans oppose--even loathe--her too.
'Something Wicked This Way Comes' #NeverHillary #tcot pic.twitter.com/Q0IJXHKA9V

— John Betts (@JohnFromCranber) June 9, 2016
What lies ahead for Hillary?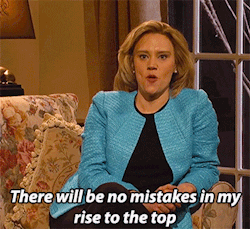 While many #StillSanders die-hards want the fight to go on until at least July 25th, when superdelegates officially cast their votes, the Clinton campaign wants to turn their attention, energy, and resources to fighting Donald Trump.
Crooked Hillary Clinton will be a disaster on jobs, the economy, trade, healthcare, the military, guns and just about all else. Obama plus!

— Donald J. Trump (@realDonaldTrump) June 9, 2016
He's already started tweeting insults about "Corrupt Hillary," and now he's planning to start more personal attacks, including scandals about the Clintons from the '90, including Bill Clinton scandals that have little or nothing to do with Hillary Clinton herself.
Clinton says she won't respond to personal attacks and will stay focused on showing that Trump isn't qualified to be POTUS.
BREAKING: In interview with AP, Hillary Clinton says of Donald Trump's attacks, 'It's classic behavior by a demagogue.'

— The Associated Press (@AP) June 8, 2016
Moving forward, Clinton will have the support of those who've been with her since the beginning, and those who guess they're with her now. Who knows what else will happen between now and November?
Clementine Amidon
Clementine is a graduate of Mount Holyoke, where she studied English and French. Her writing has appeared in The Huffington Post, the New York Observer, USA Today, BUST, and Odyssey. Clementine is an undercover short story writer, and in her spare time she's on a quest to craft the perfect tweet.
Share your comments
Comments
comments