3 Christmas Conversation Starters That Aren't Donald Trump
Christmas is here!
As presents are swapped in friend and family gatherings over the next few days, what's there to talk about? Of course there's ISIS, Donald Trump, the Sandra Bland decision, and other big topics to talk about.
But we got your back. Here are 3 subjects you can bring up--ranked from most to least serious--that are just as important and entertaining as The Donald, but less divisive. Who knows? They just might save you from awkward, festering tensions.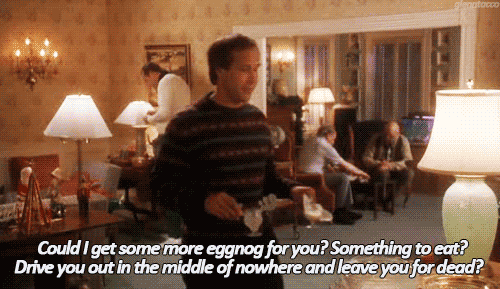 1. Very serious: The refugee crisis
Remember that tragic photo of a migrant child dead on a beach off the Mediterranean Sea?
If you want to have a serious conversation over egg nog, here are some fast facts about the worst refugee crisis of all time, happening right now:
- Thousands upon thousands have added up to millions fleeing their homes for safety this year.
- They're escaping war, violence, hunger, poverty, and more.
- One million refugees reached Europe this year by land or sea. That's the largest migration since WWII, plus a quarter of that million are children.
- In America and Europe, there's a debate over refugee intake after the Paris attacks, but Canada has taken in planes full of Syrian refugees.
- It's not just Syria and Iraq, there are over 38 million people across the world They're from Burundi, Somalia, Libya, Myanmar, Yemen, and other countries. Remember them this holiday season.
Political conversation starter: Do you think the US should take in more Syrian refugees?
Nonpolitical conversation starter: Have you seen photos and videos of refugees from countries like Syria and Iraq? Do you know of any local efforts to help refugees? I feel like we should try to help.
2. Medium serious: Chipotle
You know that favorite Mexican fast-food restaurant Chipotle, of course. Millions of Americans think it's God's gift to guacamole.
Even Hillary Clinton made it a campaign stop. And it's an example for many new restaurants with its line-ordering model of fresh food.
Uh, fresh food? Really? Here are some facts you may or may not know about Chipotle:
- It's been slammed with an E. coli outbreak (actually, multiple food poisoning cases).
- Dozens of people have gotten sick.
- The CEO says it'll be the "safest place to eat" sometime soon.
- But the crisis isn't over yet--even the feds are investigating why so many people in 12 different states have gotten seriously sick at Chipotle.
- And when this crisis is over, will Chipotle still be cool (and trustworthy) to grab a Chipotle burrito?
Conversation starter: Did you know about 5 dozen people have gotten food poisoning eating at Chipotle? Do you feel comfortable going back and eating there?
3. Not very serious: Star Wars
No spoiler alerts here!
Many people have been waiting to go see Star Wars: The Force Awakens with their family and friends at home around the Christmas holiday.
In its opening weekend, the blockbuster film has broken many records already. It beat Jurassic World and Harry Potter and the Deathly Hallows: Part 2 in opening weekend sales. Comedian Amy Poehler isn't a fan, but President Obama definitely is.
Whether you've seen it already or are about to, here's what you can talk about after you've seen it (but these questions don't spoil anything).
Conversation starter 1: So was it better than New Hope or not? What about The Empire Strikes Back?
Conversation starter 2: Do you think it'll get nominated for a Best Picture Oscar? What about Best Director for J.J. Abrams, or Best Screenplay for Abrams and Lawrence Kasdan (who also co-wrote Empire Strikes Back, Return of the Jedi, and Raiders of the Lost Ark)?
Conversation starter 3 (which involves minimal brain cells): OMG I need to see that again right away. When? Now?
Bonus conversation starter: Can we talk about ANYTHING else other than Star Wars?
Patrick deHahn
Patrick deHahn is a freelance international news reporter, having contributed to The Atlantic online and Mic. He's worked at CNNMoney, the New York Daily News, and Voice of America. Patrick loves tweeting, reading, and grabbing coffee in either New York or Washington D.C. Tweet anything on politics or world conflict to him! Follow: @patrickdehahn.
Share your comments
Comments
comments